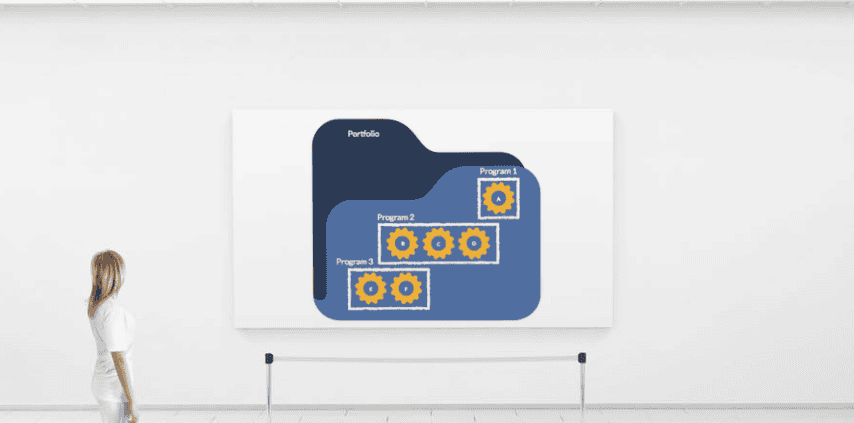 Portfolios, Programs and Projects are Essential to Managing Work
Quick take:
Projects have a definite time-frame and are made up of tasks of finite duration to achieve a specific goal
Programs organize multiple related projects to meet strategic business objectives
Portfolios are collections of projects, programs, other smaller portfolios, and other planned activities that are managed to achieve strategic objectives
These three management processes are crucial for effective project management, known as Project Portfolio Management (PPM).
The 3 P's
Portfolios, Programs and Projects are known as the 3 P's of project management. The following is a quick overview of the relationships between the 3 P's.
---
What is a project portfolio?
Definition: A portfolio consists of projects created to meet an organization's strategic goals. It is the top level of Project Portfolio Management systems.

Details: These collections of projects can be established for an entire company or for a division within a larger organization.
Need for PPM: Projectric provides a portfolio level solution that supports strategic alignment, transparency and governance.
---
What is a program?
Definition: A program is a group of related or similar projects managed in a coordinated fashion to achieve a strategic objective.
Details: Program Management occurs at the program level. Program or Project Managers guide interrelated or interdependent projects as a group. The specific purpose of each project within a program should be defined and aligned with the goals of the program. A program can span years.
Need for PPM: Because programs can span years, projects and people, optimizing resources among projects and reducing constraints across programs increases an organization's performance.  This is Project Management.  
---
What is a project?
Definition: A project is a temporary endeavor undertaken to create a unique product, service or result.
Details: A project is composed of tasks to achieve an end and is temporary—once a project's objectives are realized, the project is delivered and closed.
Need for PPM: Projects can be completed by teams dispersed around the world- this is where resource management from Project Portfolio Management software (like Projectric) becomes helpful.
---
Examples of Portfolios, Programs, Projects Within Organizations
Portfolio: University Facility Management
Program: Going Green
Projects:
Benchmark water and energy use

Build a "green wall" in the sciences library

Install new efficient air conditioning units

Install Building Automation software
Learn how these customers—across many industries—use Projectric to manage their project portfolios:
---
Check out Projectric's features.
https://projectric.com/wp-content/uploads/2019/02/Portfolios-vs.-Programs-vs.-Projects.png
560
854
Mathew Verghese
https://projectric.com/wp-content/uploads/2022/04/Projectric-logo-1.png
Mathew Verghese
2021-02-07 15:09:03
2021-04-30 15:59:58
What is the difference between portfolios, program, and project management?